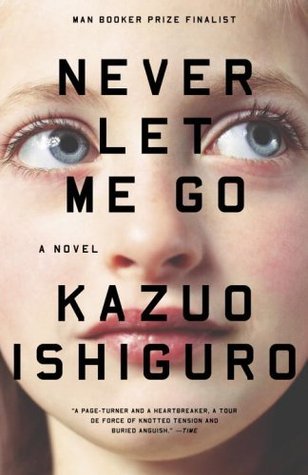 Kathy is brought up in an exclusive boarding school where the students are sheltered from the outside world but considered to be special. She has numerous friends but her closest is Ruth. When they leave school, their lives drift apart as they go their separate ways until one day they meet in unusual circumstances and rekindle their friendship. The story is essentially a series of vignettes as Kathy reminisces and tries make sense of her upbringing and her relationships with Ruth and Tommy.
I've mixed feelings about this book. There's shock, there's tedium but there's enough in it to keep you compelled to read more. It's because when you really understand what thirty-one-year-old Kathy's purpose in life actually is, you want to know more.  The tedium is the day-to-day unfolding of Kathy's memories as a child right down to the minute detail and this is what I had most trouble with.
'What Ruth said that time in our dorm after lights-out, about how Tommy had brought all his problems on himself, probably summed up what most people at Hailsham thought at the time. But it was when she said what she did that it occurred to me, as I lay there, that this whole notion of his deliberately not trying was one that had been doing the rounds from as far back as Juniors. And it came home to me, with a kind of chill, that Tommy had been going through what he's been going through not just weeks or months, but for years."
There is an underlying horror amongst the everyday as we learn why the children are all there. Once I knew what was really going on, I was impatient for the why's which never really come and in the end don't matter. A love triangle forms between Kathy, Ruth and Tommy which can sadly go nowhere. Yet what we think as simple side stories and analytical reminisces by Kathy all serves a purpose as the story winds its way back to the intriguing present day and an end we sadly know must come.
It's a love story, a tragedy, and a coming of age in a world perhaps not out of the realm of possibility. It also makes you think about what it is to be human and why, for the most part they, like us, accept the conditioning of life's designated path.  Cleverly written, I'd be willing to read another by this author.